Project Overview
Snuneymuxw First Nation, BC Housing, the City of Nanaimo and Nanaimo Ladysmith Public Schools – collectively known as the Knowledge Partners – have come together to create a plan to redevelop the properties at 564 Fifth Street, 502 & 505 Howard Avenue.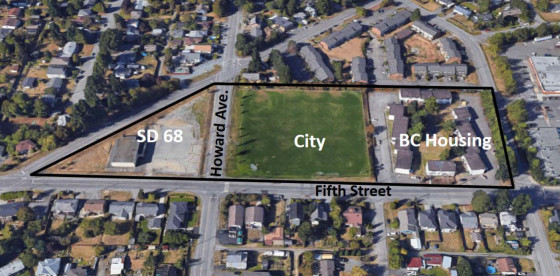 Status
Active
Phase
Preliminary
Date of Completion
TBD
Location
Nanaimo
Project Update
Project Update
Timelines for this project have changed due to several factors, including COVID-19.
Consulting teams are carrying out planning and feasibility studies and will provide public engagement opportunities throughout the development process.
Please send questions or comments to [email protected].
About the Project
About the Project
The purpose of the Te'tuxwtun Project is for the Knowledge Partners to explore opportunities for joint development and partnership on all three properties. It is the Knowledge Partners' intention to enhance the community through housing, services and amenities. The Te'tuxwtun Project, built on the teachings of the land, is envisioned to provide the foundation to both protect and improve the quality of life for all present and future community members.
Priorities for the project include:
New affordable rental housing
A new location for the Learning Alternatives school district program
Culture, parks and recreation services
Other community services identified through the planning process, such as health services and childcare
Snuneymuxw First Nation will guide the growth and development of the three properties, bringing a wealth of cultural knowledge to the project.
Partners
Partners
The Te'tuxwtun Knowledge Partners — Snuneymuxw First Nation, Nanaimo Ladysmith Public Schools, City of Nanaimo and BC Housing — have been inspired to work in a unique way, securing a relationship that is as seamless as the land itself. The depth of this connectivity is such that the partners' efforts will become inseparable.
It is the intention of the partners to become a force, enhancing the community through housing, services and amenities, to be a benefit to many. All intend to complete the project described in the Memorandum of Understanding (MOU) and wish to continue to honour this sacred respectful relationship to achieve the mutually desirable objectives of all four Partners.
Partners:
City of Nanaimo, Nanaimo School District No. 68 and Snuneymuxw First Nation