Project Overview
The new social housing building at the Little Mountain project site opened in 2015. This is the first part of one of B.C.'s larger social housing redevelopment projects.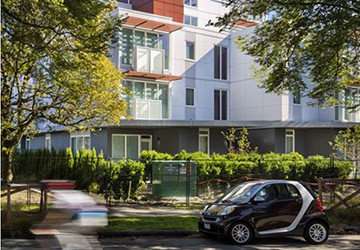 Status
Active
Phase
Under construction
Date of Completion
Dec. 31, 2024
Location
Vancouver
About the Project
About the Project
The Little Mountain redevelopment, bounded by 33rd to 37th avenues between Main and Ontario streets, is part of the province's housing strategy. The project's aim is to transform an old, low-density property that required major repairs into affordable homes in a mixed-use community.
BC Housing and the City of Vancouver have partnered with Holborn Properties to redevelop the site. The plan is to replace 224 public housing units with a total of 282 new social housing units including 10 units for the Musqueam Nation. There will also be a 69-space childcare facility, a neighbourhood house plus a public plaza and park. As part of the City of Vancouver's rezoning, we're responsible for 234 of the social housing units. The remaining 48 units will be owned by the City of Vancouver. Any replacement social housing units above and beyond those allocated to returning residents will be rented at rates no higher than rents that are affordable to households with incomes below CMHC's Housing Income Limits.
In September 2021, BC Housing, the City of Vancouver, and Holborn Properties have signed a memorandum of understanding (MOU) aimed at accelerating construction of social housing at the Little Mountain redevelopment in Vancouver. The MOU outlines the commitment of BC Housing, the City, and Holborn to work together to expedite construction of all housing units in development at the Little Mountain site, with the non-market housing prioritized so it will be completed and ready for occupancy no later than Dec. 31, 2024.
The first new social housing building at Little Mountain opened in April 2015. The five-storey building has 47 one-bedroom and six two-bedroom apartments. Managed by More Than a Roof, the building also includes an amenity room, a community garden, patio space, a bicycle and scooter storage room and a weekly, low-cost food program for residents. A 62-unit rental housing project for families and seniors is currently under construction and scheduled for completion in winter 2022.
We will update the public when further projects begin construction.
Process & Consultation
Process & Consultation
The original Little Mountain site was Vancouver's oldest public housing development, and had aging buildings on underused land. We signed a Memorandum of Understanding with the City of Vancouver in June 2007 to redevelop this 15-acre property, which is located next to Queen Elizabeth Park.
Working in partnership with the private and non-profit sectors, the vision of the redevelopment is to create new, safe, accessible housing, with a mix of subsidized and market housing, along with community facilities and other neighbourhood amenities.
Proceeds from the Little Mountain redevelopment are being reinvested by partnering with eight municipalities across the province to build 2,100 units of supportive housing. This includes a partnership with the City to build about 1,500 units on 14 city-owned sites, most of which are now open or are in development. Supportive housing helps people with mental health, addiction and other chronic conditions.
Original residents of the property were relocated according to the Guiding Principles for Resident Relocation . These principles guarantee that residents have first choice to return to Little Mountain once the redevelopment is completed.