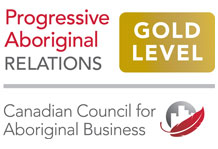 Commitment to reconciliation
Indigenous peoples continue to face inequalities and discrimination. A disproportionate number of Indigenous people are homeless or living in inadequate housing. These are the lasting effects of Canadian assimilation policies and residential schools.
BC Housing commits to eliminating racist and discriminatory policies, processes and approaches.
We continue to build trusting relationships with our Indigenous partners. This will create real change and build Indigenous self-reliance.
Progressive Aboriginal Relations certification
The Progressive Aboriginal Relations (PAR) certification program ensures accountability to Reconciliation.
PAR measures performance in four areas:
Leadership Actions
Employment
Business Development
Community Relationships
BC Housing's commitment to Indigenous communities
PAR is a program offered by the Canadian Council for Aboriginal Business (CCAB). BC Housing has been a member of CCAB since 2012. We are the only housing agency in Canada to receive certification under the PAR program. PAR certified companies inform Indigenous communities that they are good business partners.
PAR certification
2018-2021 Gold
2015-2018 Gold
2012-2015 Silver