The adaptations should directly address the permanent disability or diminished ability of the homeowner, tenant or household member. Find out what modifications are eligible or ineligible under the BC RAHA program.
The BC RAHA program is now accepting applications. BC RAHA is allocated on a first come, first served basis with priority given to complete applications. The program will close on March 31, 2024, or sooner if funds have been exhausted. Find answers to common questions about the BC RAHA program.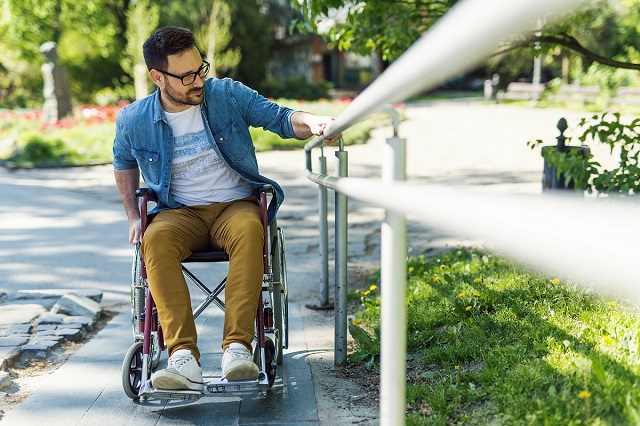 All adaptations will be assessed based on how they address a household member's permanent disability or loss of ability. If it is not clear how the requested adaptations will help the household member maintain independence in the home the requested adaptations may not be approved, or medical documentation may be required. Some adaptations require an In-Home Assessment by an Occupational Therapist or Physical Therapist. Applicants are encouraged to consider the lifetime maximum when selecting adaptations to include on the application.
Eligible property adaptations
Adaptations not listed below may be eligible if it directly addresses a permanent disability or loss of ability that will promote continued safe and independent living within the home.
Note: Any adaptations completed prior to receiving written approval from BC Housing are not eligible.
Approaching and Getting Around the Dwelling
Provide safe access to the street, parking, and entrance

Widening of walkways
Addition of slip resistant surfaces
Levelling of uneven surfaces
Installation of exterior ramps or elevating devices

Installation of a transfer aid, such as a trapeze hung from the ceiling used to transfer an occupant to and from a mobility device.
Modification to doors, doorframes and window frames for accessibility or colour contrast.
Modification of hallways, corridors, doorways, and stairs/landings to improve safety and accessibility.
Installation of lever-type door handles.
Installation of handrails or guiding rails.
Installation of colour-contrasted or reflective strips to the front edge of stair nosing.
Installation of interior ramps, elevating devices, or stair lifts.
Replacement of floor coverings which are a safety hazard.
Electrical, HVAC, Plumbing
Relocating controls, switches, or outlets for accessibility or visibility.
Installation of multiple cue fire/gas/carbon monoxide alarm systems.
Modifications to systems as needed to accommodate eligible adaptations.
Installation of lever-type faucets (including sensor or thermostatic controls)
Kitchen
Modification to the layout of the kitchen to improve accessibility. This may include:

Modifications height/location of countertops or cabinets
Modification to sink area for accessibility
Provision of space for accessible appliances

Modification to cabinet door/drawer pulls and hardware.
Bathroom
Modification to the layout of a bathroom to improve safety and accessibility. This may include:

Installation of grab bars

Modification to the bathing area. This may include:

Wheel in or low barrier shower
Installation of bath/shower seat
Walk in bathtub
Handheld showerhead

Modification to sink area
Installation of a raised toilet, bidet, or automatic wash toilet-seat add-on.
Other Rooms
Modification to the layout of a room to improve safety and accessibility.
Installation of grab-bars and vertical poles
Installation of permanently fixed devices such as lifting devices, overhead transfer tracks, trapeze devices
Accessible closet doors
Installation of an accessible laundry tub or relocation of existing tub, lever-type faucets
Other modifications to provide accessibility for mobility devices in the home.
Ineligible property adaptations
Installation or replacement of windows, including deteriorated, leaking or damaged.
Repair or modification of a roof.
Repair or replacement of an existing heating system.
Replacement or maintenance of any deteriorated, substandard, leaking or inefficient items or systems.
Installation of a Heat Recovery Ventilator (HRV) for energy efficient purposes.
Purchase or installation of any dehumidifier, humidifier, air conditioner and/or air purifier.
Purchase or installation of appliances, central humidifier, electronic air cleaner, electrostatic precipitator, ionizer, ozonator or other devices whether built-in or freestanding.
Extensions or conversions for any purpose other than specified, such as recreational space, hobby room, or office space
Replacement of existing items that are unaffected or could be repurposed by adaptations such as vanities, medicine cabinets, kitchen counters, kitchen fans, bathroom fans, lights, sinks, or faucets.
Luxury materials such as granite, marble, or hardwood, or luxury items such as jetted tubs with therapeutic features*
*Note: For adaptations not covered by the Maximum Rebate Schedule, if the applicant wishes to select a luxury item, BC RAHA reserves the right to ask the applicant to have their contractor provide a second estimate for more modest materials. This second estimate will be used to determine the amount of the BC RAHA rebate and the applicant will be responsible for costs of work or materials that is beyond the scope of the program.
BC Housing reserves the right to review and refuse any items that are not directly related to a permanent diminished ability or disability, considered to be a duplicate adaptation, or items which could be completed through a more cost-effective means.