Project Overview
The former Remand Centre at the corner of Powell and Gore Streets in downtown Vancouver has been completely renovated to provide new homes for low-income adults and at-risk Indigenous youth.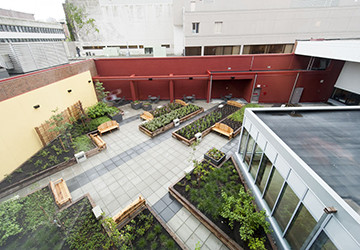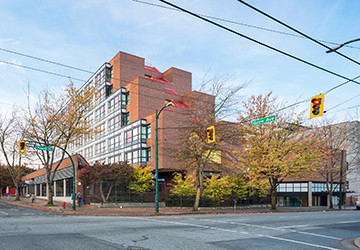 Status
Completed
Phase
Final
Date of Completion
August 2015
Location
Vancouver
About the Project
About the Project
BC Housing retained The Bloom Group — formerly known as St James Community Service Society — to develop, manage and operate 250 Powell Street. The project included the repurposing via renovation of a former correctional facility, the Remand Centre, into 96 residential units and a multi-purpose amenity space.
The View's affordable rental housing includes:
38 units for youth participating in BladeRunners' entry-level construction program. These are found on two floors of housing for Indigenous youth, known as BladeRunners Place. Some of these youth helped renovate the building. A tenant support worker from BladeRunners provides help for the BladeRunners tenants.
42 units that give priority to people already working or living in the Downtown Eastside who earn between $26,000 and $40,000 per year.
16 units for women moving out of The Bloom Group's emergency housing and the YWCA's Crabtree Corner. These are women who face homelessness, mental health challenges and/or addictions.
The former Remand Centre building, located at 250 Powell Street, was originally built in 1981 and closed in 2002.
The Bloom Group operates the residential component in conjunction with BladeRunners. The Ministry of Justice and the Vancouver Police Department operate offices, detention facilities and the Downtown Community Court on the premises (these facilities remained open throughout the construction process).
All new tenants of the newly named The View moved in by the end of 2015. Rents in the building range from $375 to $850 per month, and the apartments are between 320 and 560 square feet.
Partners
Partners
The Bloom Group completed a pre-qualification for general contractors and a competitive construction tender for the project. The successful proponent, Mierau, executed a construction contract for the renovation works after BC Housing granted final project commitment.
The Government of B.C. contributed $16.6 million towards this redevelopment.
The City of Vancouver provided a $2-million grant and $890,578 in waived development fees.