The HousingHub is facilitating new opportunities and partnerships with traditional and non-traditional partners to create new affordable homes.
The HousingHub's initiative is to proactively bring together and partner with all levels of government, landowners and a range of for- and not-for-profit groups to increase people's rental and homeownership options. Below are HousingHub partnership projects in-development.
Featured projects
Nanaimo - DLX on Third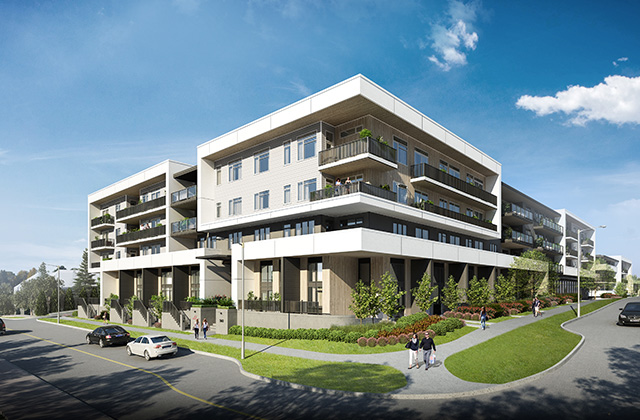 Approximately 180 units of affordable rental housing serving low- and middle-income households in Nanaimo.
Scheduled Completion: Spring 2023
For more information on the renting or purchasing of properties listed, please reach out to the developer directly.
Municipality
Development
Project Type
Phase
Contact
Abbotsford
Gardner Living Townhomes - 2842 & 2850 Livingstone Ave
Rental
Completed
Mosaic Homes
Burnaby
4281 Grange Street
Rental
Construction
YWCA
Burnaby
O2 - 6620 Sussex Ave
Rental
Construction
The New Vista Society
Coquitlam
Como Lake - 1110 King Albert Ave
Rental
Construction
BC Housing - Applicant Services
604-433-2218
Courtenay
Crown Isle - 621 Crown Isle Dr
Rental
Completed
Dylan Baird - WestUrban
250-914-7942
Gibsons
571 Shaw Rd
Rental
Construction
The Sunshine Cost Affordable Housing Society
Kelowna
The Lodges - 726 Clement Ave
Rental
Completed
PC Urban
Langley
5605 201A St
Rental
Construction
Crossroads - Park Vista Apartments
Langley
Solaro - 22304 & 22306 50th Ave
Rental
Completed
Century Group
Maple Ridge
ERA - 22265 Dewdney Trunk Rd
Rental
Construction
Maple Ridge
Turnock Manor - 22325 St. Anne's Avenue
Rental
Completed
Turnock Manor - BC Housing
Merritt
Olympic Villas - 4010 Walters St
Rental
Leasing
Olympic Villas
Mission
Cedar Valley Suites - 7251 Cedar Valley Connector
Rental
Completed
Lookout Society
Nanaimo
DLX on Third, 560 Third Street
Rental
Construction
Wertman Development Corporation
North Vancouver
Innova - 402 E 3rd St
Affordable Home Ownership Program
Construction
Cascadia Green Development 
Parksville
Moilliet - 119 Moiliet St
Rental
Completed
Dylan Baird - WestUrban
250-914-7942
Prince George
2541 Oak Street
Rental
Construction
Aboriginal Housing Society of Prince George
 
Prince Rupert
Project Eagle - 1030, 1038 & 1046 Eagle Dr
Rental
Construction
Ventica Holdings
Port Moody
Woodland Park - 1030 Cecile Dr
Rental
Construction
Edgar Developments
Richmond
Cascade City - 5766 and 5788 Gilbert Rd
Rental
Completed
Az-Zahraa Housing Society
Sidney
Oslo on Fifth - 10129 Fifth St
Rental
Construction
Primex Investments
Squamish
ASHLU - 38012 3rd Ave
Rental
Construction
Vanessa Jang - Eighth Avenue
Squamish
Northyards - 39666 Government Rd
Rental
Completed
Dylan Baird - WestUrban
250-914-7942
Surrey
The Gateway - 13787 11 Ave
Residential Care or Assisted Living
Fully Tenanted
Mosaic Seniors Care Society
Vancouver
1315 and 1395 Davie St
Rental
Completed
Vancouver Native Housing Society
Vancouver
1807 Larch St.
Rental
Construction
Tom Pappajohn -  Jameson Development Corp
Vancouver
The Narrows - 3455 East Hastings St.
Rental
Construction
Steiner Properties
604-688-8103
Vancouver
The Peak - 3737 Rupert St.
Rental
Completed
Rent The Peak
Victoria
Haven by Chard - 1109 and 1115 Johnson St.
Affordable Home Ownership Program
Construction
Chard Developments
Victoria
Pandora - 1468 Vancouver St
Rental
Construction
Townline Homes
Victoria
Ross Terrace - 2570 Fifth St
Rental
Completed
Aryze Development
Victoria
Sparrow - 1301 Hillside Ave
Affordable Home Ownership Program
Completed
Abstract Developments
Victoria
Vivid at the Yates - 848 Yates St
Affordable Home Ownership Program
Sold Out
Chard Developments
West Kelowna
Carrington View - 2200 Majoros Rd
Rental
Completed
Skyline Living
Whistler
Granite Ridge - 1330 Cloudburst Dr
Rental
Completed
Whistler Housing Authority
HousingHub projects can also be found on the Homes for B.C. map.