Project Overview
125 new affordable homes will help families and people in need in Burnaby.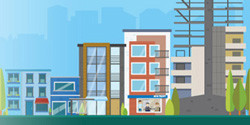 Status
Active
Phase
Under construction
Date of Completion
Summer 2021
Location
Burnaby
About the Project
About the Project
The New Vista Society has partnered with Thind Properties (the developer) to develop 125 new affordable rental housing units in Burnaby. The developer is in the process of redeveloping the site to create a market condo tower, and as part of the City of Burnaby's commitment to expanding affordable housing has agreed to make a community contribution of the land to provide an opportunity of the inclusion of non market units.
Located at 6585 Sussex Ave, the development will be comprised of 125 units ranging from studios to three-bedrooms to accommodate individuals and families with low to moderate incomes. The site is conveniently located immediately south of the Metrotown Sky-train station in the Metrotown neighbourhood of Burnaby allowing residents easy access to a number of amenities including restaurants, shops, services and transit.
BC Housing has provided capital funding for this development through the Building BC Community Housing Fund, which is providing new affordable mixed-income rental homes for people throughout the province.
Once complete, the operations of the non-market affordable rental housing units will be operated by the New Vista Society.