Project Overview
New Jubilee House opened its doors in downtown Vancouver in summer 2016, providing 162 homes for low-income residents and seniors.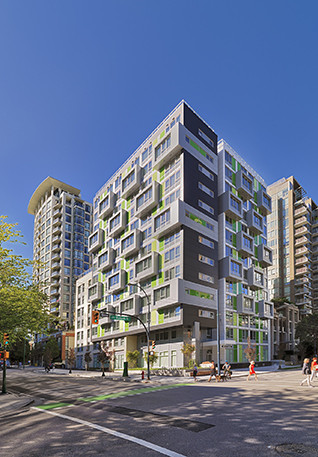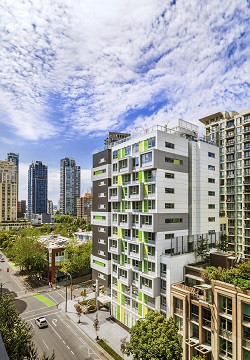 Status
Completed
Phase
Final
Date of Completion
July 2016
Location
Vancouver
About the Project
New Jubilee House provides affordable housing, including 75 new low-end-of-market units and 87 shelter-rate units for residents who have left the original Jubilee House on Helmcken Street, which was scheduled for demolition. Of those 75 low-end-of-market units, the City of Vancouver has reassigned 20 as shelter-rate housing for former Quality Inn residents.
New Jubilee House has a wide range of amenities for residents, including a library, lounge, computer room, communal kitchen and rooftop garden. The building, which is situated opposite the original Jubilee House, has 116 studios and 46 one-bedroom homes.
Partners
Partners
In 2013, the City of Vancouver, Brenhill Development, 127 Housing Society, and BC Housing established a partnership to build 162 new units of affordable rental housing to replace 87 units of obsolete housing at the aging Jubilee building, located at 508 Helmcken St.
The new low-income housing units would be constructed by Brenhill at a site at 1099 Richards St.
Once the project was complete, all of 87 of the households at the old Helmcken site moved across the street into brand new units at the Richards Street site. Another 20 of the units are allocated to previously homeless individuals. The remaining 55 units are rented at below market rates.
BC Housing provided a $39 million loan to construct New Jubilee House on Richards, which was secured by a mortgage on the Helmcken site that has since been repaid.
The New Jubilee House building and land on Richards are now owned by the City of Vancouver and leased to 127 Housing Society for 60 years. BC Housing has entered into an operating agreement with 127 Society, whereby 127 Society will operate the 162 rental units that now house low-income individuals and families.
For more information on the New Jubilee House partnership with BC Housing, view the New Jubilee House - Presentation.