Supportive housing assists people who are homeless or at risk of homelessness, and creates successful tenancies and healthier communities.
What is supportive housing?
Supportive housing is for British Columbians experiencing or at risk of homelessness.  People experiencing homelessness are not all the same. They can be young people, seniors, or people with physical or mental disabilities. Anyone who has experienced trauma, poverty, or struggled with the high cost of housing.  
Trained support workers partner with each resident to develop a customized plan to meet their personal and housing goals. Some supports are offered inside the building while others are offered in the local community.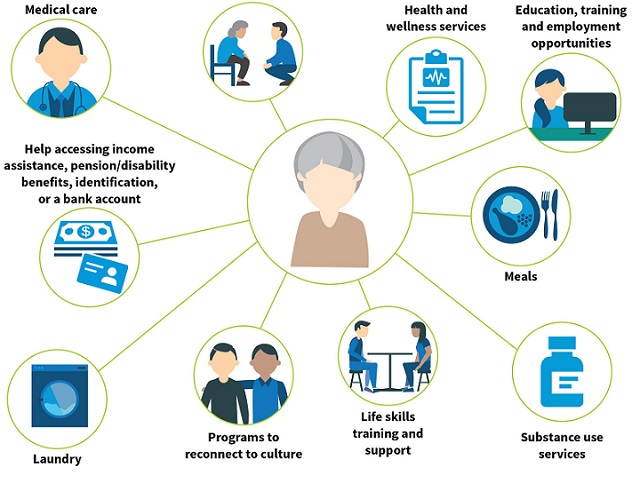 How residents are selected
Residents are selected through a thoughtful and thorough assessment. This process is to make sure each person has the housing and support services they need to achieve a successful tenancy.
BC Housing, service providers, and professional, non-profit housing operators work together to ensure the needs of residents will be met by the support services provided by the housing operators, local health care providers and community-based programs.
All residents in supportive housing choose to live there and to work towards living a healthy, stable life.
Building Knowledge: Community Acceptance Series
The Community Acceptance Series features five case studies of supportive housing sites that gained acceptance in their respective neighbourhoods.
Findings will provide direction for future supportive housing sites on how to address neighbourhood concerns during project planning and community engagement.
Through lessons learned, these case studies identify strategies for existing supportive housing sites to improve relationships with neighbours.
Community Acceptance Series Overview
This report summarizes the case studies in the Community Acceptance Series documenting the experiences of supportive housing sites that gained neighbourhood acceptance.

5616 Fraser Street, Vancouver
5616 Fraser Street in Vancouver opened in 2007 and is operated by RainCity Housing and Supports Society. The building has 30 self-contained studio units providing transitional housing for those with concurrent mental health and substance use issues in addictions recovery.

Camas Gardens, Victoria
Camas Gardens is located near downtown Victoria and operated by Pacifica Housing. The building has 44 self-contained bachelor and one-bedroom units for people who are homeless or at-risk of homelessness, including people facing mental health or addiction issues, either active or in recovery.

Cardington Apartments, Kelowna
Cardington Apartments in Kelowna opened in 2008 and is operated by the John Howard Society of the Central and South Okanagan (JHSCSO). The building has 30 self-contained units providing supportive housing development for adults who are homeless or at risk of homelessness, managing mental health and addiction challenges.

Christine Lamb Residence, Abbotsford
Christine Lamb Residence opened in 2012 in Abbotsford and is operated by SARA for Women. It provides transitional housing for women and children who are at risk of homelessness or fleeing violence.

Timber Grove, Surrey
Timber Grove was developed through a partnership between the Province of B.C., the City of Surrey, Fraser Health and Coast Mental Health. It provides 52 affordable rental studio apartments for seniors and people with disabilities at-risk of homelessness.