Building Knowledge Case Study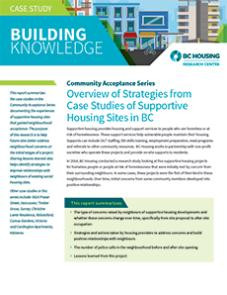 This report summarizes the case studies in the Community Acceptance Series documenting the experiences of supportive housing sites that gained neighbourhood acceptance. The purpose of this research is to help future sites better address neighbourhood concerns at the initial stages of a project. Sharing lessons learned also helps identify strategies to improve relationships with neighbours of existing social housing sites.
Case studies in this series include: 5616 Fraser Street, Vancouver; Timber Grove, Surrey; Christine Lamb Residence, Abbotsford; Camas Gardens, Victoria and Cardington Apartments, Kelowna.