Project Overview
Over 100 new homes are planned in the Downtown Eastside for Indigenous individuals and families.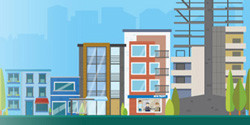 Status
Active
Phase
Development Permit
Date of Completion
Summer 2022
Location
Vancouver
About the Project
About the Project
A proposed Indigenous-led community project featuring a healing centre, 50 supportive housing apartments, and new affordable rental apartments for Urban Indigenous families, Downtown Eastside residents and other residents with lower incomes. The healing centre would be guided by a holistic approach to wellness, focused on the spiritual, emotional physical and mental elements of well-being that blends Indigenous and western medicine. The Aboriginal Land Trust, BC Housing, Vancouver Native Health Society, Lu'ma Native Housing Society and RainCity Housing are partnering on the proposal for this new mixed-use development.
The site is located on the southwest corner of East Hastings St and Columbia Street in the Downtown Eastside of Vancouver.  The property is located close to transportation, commercial shops and community facilities.  It is an 8-minute walk to the Millennium Skytrain station, DR Sun Yat-Sen Classical Chinese Garden, Sun Yat -Sen Gardens and Andy Livingstone Park.
There are currently residential and commercial tenants on-site, who will be relocated in future if the proposal is approved. The current residents of The Shaldon units will be temporarily relocated until the new supportive apartments are complete and ready. The commercial tenants will be permanently relocated to other locations. These relocation plans are a collaborative process between the City of Vancouver; BC Housing Real Estate and Operations team and RainCity Housing.
As part of the redevelopment, a tenant relocation strategy will be developed by Raincity in collaboration with BC Housing Operations team for all Shaldon Hotel residents and commercial residents will work with the City of Vancouver, supported by BC Housing Real Estate to identify alternative sites.