Project Overview
The Cedar Place project is an innovative partnership between the province and private sector that has replaced an aging social housing development with new affordable housing, and will provide new affordable housing for seniors.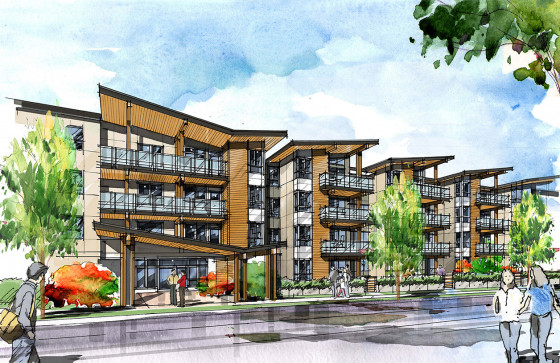 Status
Active
Phase
Families: Occupancy Seniors: In Development
Date of Completion
Families: Early 2019 Seniors: Early 2021
Location
Burnaby
About the Project
About the Project
In 2014, BC Housing signed an agreement with Ledingham McAllister (LedMac), an experienced Lower Mainland developer, to replace an existing 90-unit affordable family housing development in Burnaby, Cedar Place, with a 2:1 ratio of affordable housing units. In 2019, LedMac completed the construction of the replacement affordable family housing development across the street from the existing Cedar Place on LedMac's Southgate development site. BC Housing owns and operates the new affordable family housing building.
Construction on a new 91-unit seniors affordable housing development is underway with an anticipated completion date in early 2021. To be considered for a unit in the new building upon completion, applicants must apply to the Housing Registry and use the Housing Registry code 'DNL'. Visit how to apply for rental housing and review the Housing Listings for information about subsidized housing options.
Housing and LedMac are committed to ensuring this partnership benefits existing Cedar Place tenants and addresses future needs of affordable housing in Burnaby.
Process & Consultation
Process & Consultation
Seniors Housing
The plan for the seniors housing building is going through a rezoning and development process with the City of Burnaby, with a building permit anticipated in April 2019. 
Family Housing
Following tenant open houses in January 2015, BC Housing submitted a rezoning application for the family housing development. The City of Burnaby then held a public hearing for the application on April 26, 2016. The application was approved and the project broke ground in June 2017 and was completed in January 2019.
Open house poster boards (January 2015)
Cedar Place housing transition principles
There are the same number of housing units in the new Cedar Place as the original Cedar Place.
Tenants were able to stay in their homes until the new affordable housing building was completed. Tenants did not need to move during construction.
Tenants at the new Cedar Place continue to pay the same rent as before, unless their income or family size changed.
BC Housing assigned the new apartments in the building to families through a fair and equitable process based on household need.
BC Housing covered reasonable costs for moving and utilities reconnection, such as telephone or cable TV.
Tenants were provided with open communication and clear information through the redevelopment process.
Letters to tenants