Project Overview
The Land Trust project aims to develop 358 units of housing. A partnership between the City of Vancouver, BC Housing and the Co-Operative Housing Federation of BC, together with Sanford Housing Society and Tikva Housing Society.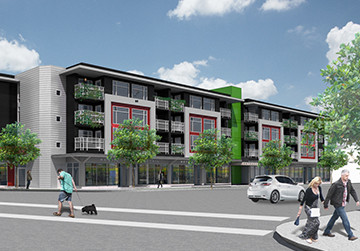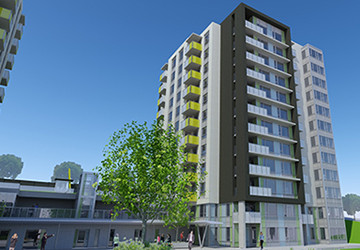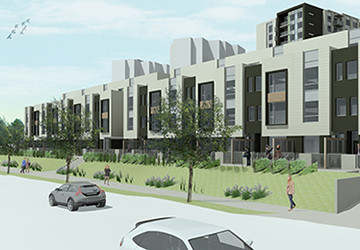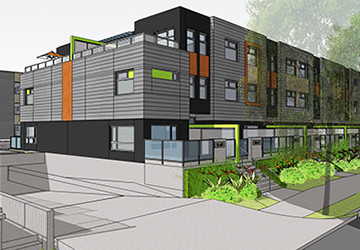 Status
Active
Phase
Rendering of housing
Date of Completion
tbc
Location
Vancouver
About the Project
About the Project
In order to address the housing crisis, new self-sustaining funding models for affordable housing are emerging. This Land Trust project is one such example.
The Land Trust is the Vancouver Community Land Trust Foundation, an arm's length organization of the Co-operative Housing Federation of BC. The Foundation is working on a cross-subsidy rental model, which relies on a portfolio model approach. Rents at one of the three sites will be set at market-rate levels. The net income cash flow from that site will subsidize the other two, which can then be rented at affordable levels.
Other sources of revenue will come from housing providers ($3.8 million) and from the sale of commercial retail units at the sites (approximately $4.75 million).
The sites — two of the original four were consolidated — will be developed and constructed in a phased approach over several years. Occupancy is expected between 2017 and 2018.
Partners
Partners
Partners
Contribution
City of Vancouver
Land owner:

leasing land at no cost
land value of approximately $24.6 million

BC Housing
Pre-development funding:

$90 million (approximately) interim construction financing
$69 million take-out financing
$4.5 million grant contribution

Vancity Savings Credit Union
Pre-development funding:
Housing provider
Housing provider
Housing provider
Housing provider
Vancity New Market Funds
Deferred-equity  loan:

$11 million (approximately)