Case Study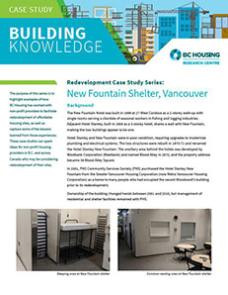 The original New Fountain Shelter, operated by PHS Community Services, was built in 1899 in Vancouver's Downtown Eastside. Once site redevelopment began in 2015, a new shelter site was required to avoid service gaps for vulnerable shelter residents. A nearby auto-glass repair shop was renovated based on harm reduction and accessibility.
About the redevelopment case study series
This case study series highlights examples of how BC Housing has worked with non-profit providers to facilitate redevelopment of affordable housing sites, as well as captures some of the lessons learned from those experiences. These case studies can spark ideas for non-profit housing providers in B.C. and across Canada that may be considering redevelopment of their sites.