Guide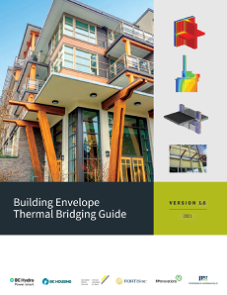 This guide aims to help the B.C. construction sector realize more energy-efficient buildings by looking at current obstacles and showing opportunities to improve building envelope thermal performance. Version 1.6 adds 26 new details and 95 new scenarios of generic details and assemblies. The updated version includes new assemblies such as precast-concrete, wood-framed, and roofing systems. Details have been also been added for mitigating thermal bridges at interface details, including the window to wall transition, intermediate floors, roof penetrations, and base of wall details at foundations.
The Thermal Bridging Database is a web-based application that simplifies calculations. This helps industry stakeholders to recognize the impact of thermal bridging.
The database provides essential information on construction, energy standards and climates in Canada.