As a BC Housing project technologist, you'll be part of an organization with an exceptional community focus.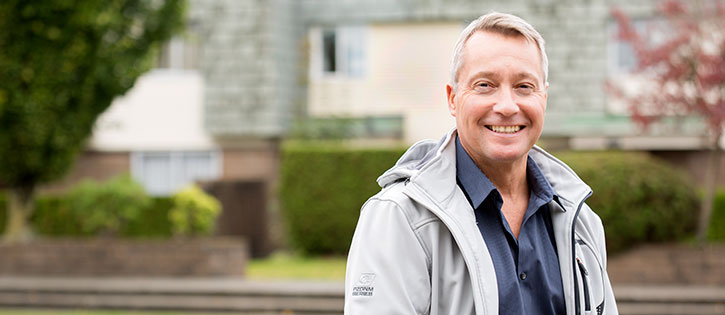 About
About
We're building some of the most innovative social-housing projects in the province, and you'll be contributing to our social-housing mandate.
You'll put your knowledge of building, engineering or architectural technology to good use on our multi-residential projects. You'll also be involved in our strong commitment to reduce our environmental impact and ensure our GHG emissions are at the lowest level possible.
Depending on your interest and project management expertise, your project technologist career at BC Housing can follow one of two paths:
Retrofitting, maintaining and adapting our existing housing portfolio
Leading the development and construction of new housing projects
Development and Asset Strategies
Project technologists at BC Housing work in one of two departments within our Development and Asset Strategies Branch:
Asset Strategies (capital asset management) – this department is responsible for maintaining, adapting and improving the existing supply of subsidized housing. As well as managing renovation and repair projects, Asset Strategies oversees the planning, development and implementation of BC Housing's asset portfolio plan. It's also the centre of expertise regarding energy sustainability for existing and new buildings. Finally, Asset Strategies provides project management services to the Canada Mortgage and Housing Corporation (CMHC) and the Ministry of Education for their building envelope upgrade programs.
Development Services – BC Housing is responsible for ensuring the supply of subsidized housing increases to meet the demand of those in greatest need. This process is facilitated by Development Services, which is responsible for implementing provincial and joint provincial-federal subsidized-housing supply programs, such as the Community Partnership Initiatives.
Skills & qualifications
Skills & qualifications
Both Asset Strategies and Development Services require critical-thinking skills, knowledge of B.C. or other provincial building codes or municipal approval processes, an ability to read and critique construction drawings, and experience in inspecting new and existing buildings and estimating construction costs. Development Services specifically requires familiarity with reading and understanding building envelope assessment reports.
Qualifications
First and foremost, BC Housing's project technologists have a positive, can-do attitude. The other qualifications and education requirements include:
A diploma from a building, engineering or architectural technology program or the equivalent education to qualify as an applied science technologist (AScT)
Training in building envelope principles, industry standards, regulatory requirements, construction contract administration and sound construction practices
At least two years' broad-based technologist work experience
Contract administration expertise (including CCDC contracts)
Experience with the design or construction of multi-unit residential projects
Proficiency in Microsoft Office applications and construction software
Eligibility for designation as an AScT or CET (certified engineering technologist) with Applied Science Technologists & Technicians of BC will enhance your application.
How we support you
How we support you
Your role as a BC Housing project technologist offers immense job satisfaction knowing that you and your team support and maintain a stable living environment for tenants and help facilitate their access to community resources so they can live successful lives.
Just as we ensure our buildings have strong foundations, we make sure our project technologists have the resources needed to accomplish diverse daily tasks and succeed on the job. This includes the support of a team, plus training and development opportunities.