Enjoy a rewarding role maintaining our social housing sites and helping the people who live there.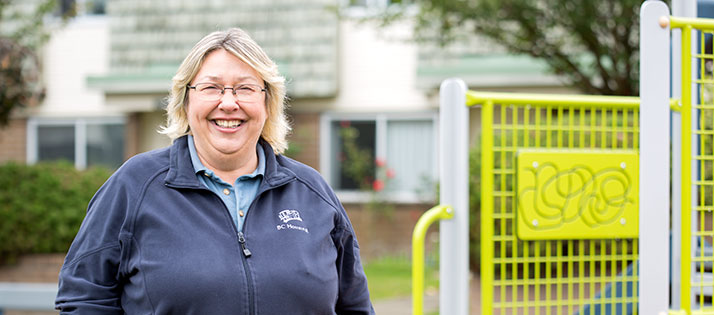 About the job
About the job
With the support of BC Housing and a close-knit team, our building managers enjoy a rewarding role maintaining our social housing sites and helping the people who live there. As a BC Housing building manager, your people skills are a central part of your daily job.
What is the building manager job like?
As a BC Housing building manager, you'll do everything from cleaning vacated suites for new tenants and changing door locks, to minor groundskeeping, plumbing and building repairs. You will also manage contractors, order parts and keep your paperwork up to date. Most important, you and your team will support and maintain a stable living environment for tenants and help them access community resources that will help them succeed.
What are the benefits of being a building manager?
Your job satisfaction comes from knowing that you and your team are helping people live successful lives. Plus, as a BC Housing employee, you'll enjoy an excellent benefits package.
Who do building managers work with?
BC Housing has both resident building managers, who live and work on-site, and non-resident building manager positions. In either case, building managers work closely with tenants and have the support of teams typically made up of property managers, building supervisors, tenant support workers and janitors. Team members stay in close communication with each other to help tenants address site-related issues, security concerns or personal crises, and to ensure tenants get the community support and resources they need.
Skills and qualifications
Skills and qualifications
We are looking for building manager candidates who are empathetic and strong communicators, and have conflict resolution skills and an innate resourcefulness. You need to be comfortable working with vulnerable people and families who live in social housing, including new immigrants and people with addictions, mental health or behavioural issues.
What skills do I need to succeed as a BC Housing building manager?
You don't need to have all of the building maintenance skills needed for the job when you start. We'll provide training if you have the right blend of personality and interpersonal skills. However, being a resourceful handy-person who can attend to minor electrical, plumbing and carpentry maintenance and emergency repair (and who is willing to learn!) is a major asset on your resume.
In addition, we want people who genuinely care about others and who are:
Problem-solvers who can quickly address issues as they arise
Skilled at conflict resolution and know how to diffuse a situation
Good communicators who understand when to speak up and when to listen
Enthusiastic and know what it means to bring your A-game to work every day
Comfortable using a computer for tasks such as ordering parts online
Grade 12 graduates (or equivalent) and have a valid B.C. driver's licence
Courses and training in building management and experience in community or customer service would be beneficial. We require a satisfactory criminal records check and vulnerable sector check.
Supervisory roles
Some of our building managers supervise others. If you qualify as a building manager supervisor, you will extend your people skills to your team of building managers and janitorial staff — you will be involved in their recruitment and training, oversee their work and evaluate their performance. You'll also manage contractors, site programs and inspections, while ensuring tenants' homes are well-maintained and safe.
Benefits
Benefits
This rewarding role offers immense job satisfaction knowing that you and your team support and maintain a stable living environment for tenants and help facilitate their access to community resources to live successful lives.
Salary & benefits package
BC Housing employees enjoy excellent compensation packages, and our building managers are no exception. We offer comprehensive benefits and one of the best pension plans in the country. Our employee benefit plans provide security and contribute to the health and well-being of employees and their families.
Affordable housing for our building managers
One of the perks of being a resident building manager is that you will pay nominal rent for one of our units. Living on-site also means that your commuting time and related expenses are zero, which translates into more of your salary going into your pocket.
Many of our building manager units have room for a family and garden spaces, and are being upgraded with the latest green technologies.
How we support you
How we support you
Just as we ensure our buildings have strong foundations, we make sure our building managers do, too. Through the support of your team and training and development opportunities, we make sure that you have the resources you need to accomplish your diverse daily tasks and succeed in your job.
Building manager team support
Being a building manager means that you are supported by a team of equally committed people. Your "pod," as we like to call your team, may consist of:
A property portfolio manager, who oversees the operation of your site and other sites in his or her region
Access to a janitorial team, who works closely with you to ensure the site is clean and safe
A building manager supervisor, who works under a property portfolio manager and will support you and your janitorial team in getting your work done and solving any maintenance or tenant issues
Tenant support workers, who are on the frontline working directly with your tenants and their unique life issues
Health support workers, who visit multiple sites to provide health care advice, services and programs to tenants
What kind of orientation and training can I expect as a building manager?
During the first two months on the job, you will attend Human Resources (HR) and orientation sessions where you will receive the knowledge and resources that will help you fully understand BC Housing's mandate and programs, and the tools to help you accomplish your daily responsibilities. This orientation includes a tour of our various housing developments and BC Housing's head office. HR follows up with an onboarding interview in your sixth month.
Are there any other personal and professional development opportunities?
Governed by our People Strategy, your work environment will reflect an organizational commitment to personal and professional development. As a BC Housing employee, you will benefit from formal coursework towards designations and certificates and informal learning opportunities to continually improve your skills.
Communication courses
For building managers, we offer courses on how to communicate effectively with tenants and neighbours. You will be able to build on your people-management and conflict-resolution skills so that you will know, for instance, how to help a person in crisis and how to prevent situations from escalating.
SkillsPlus
Our SkillsPlus Program provides technical and practical training for new building managers and maintenance staff. Developed in partnership with Douglas College, the training provides modules in plumbing, carpentry, electrical and heating, ventilation and air-conditioning (HVAC), so you can identify problems and have hands-on experience with how to fix them.
Through your development of people and maintenance skills, you will be able to choose the right tools for every situation.
Leadership development – building manager supervisors
As a building manager supervisor, you will benefit from leadership training that involves personal assessment tools, private coaching and workshops aligned with organizational objectives. Professional development focuses on strategic thinking, project management, team development as well as mentoring and coaching.